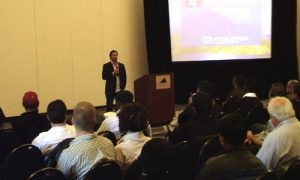 I've been investing in residential real estate since I was 20 years old.  I have watched the suburbs of Atlanta grow and change with each decade and season.  Atlanta is an incredible city full of rich resources and growth potential.  Lawrenceville is an area that has certainly seen its share of growth.  In the mid 1990's it was the county seat for Gwinnett, the fastest growing county for several years in a row.  Now, Lawrenceville is a hot bed for investment in residential real estate, and Auction.com has a fairly dominant hold on the investment market there.
As an auctioneer and an investor, I have been able to track the trends in this market, especially with the hedge fund and flip investors.  Both have had their opportunities to gain ground, but obviously in opposition to each other.  Three years ago when Auction.com began to lose ground with the REO market nationwide, they shifted to selling foreclosures on the courthouse steps.  Since then, I have watched the hedge funds like Invitation Homes (backed by Blackstone Capitol), WRI, Colony Homes and California-based American Homes 4 Rent dominate the lower mid range priced housing in several key markets across the United States.  They maintained that fast paced, frenzied buying for nearly two years, squeezing out the flip investors that could not compete with the 'buy and hold' model they had conceived.  Now, I see the hedge funds shying away from the courthouse auctions, becoming increasingly picky about what they buy.
We have been able to attain some very nice ROI's for our investor clients who buy, repair and flip.  During my tenure as a Senior Vice President of Brokerage at Auction.com, I learned that you must have your finger on the pulse of the market daily.  You must watch the signs of change and you must also be a contrary investor, bidding against the flow of the market when the current increases due to over participation.
Right now, my 20 plus years of experience is showing me that flips and rehabbers rule the day.  At the Super Tuesday courthouse auctions, I'm witnessing a sharp decline in participation during the second half of the auction.  I'm also noticing that the pickiness of the hedge fund buyers is resulting in opportunities for the seasoned 'buy and resale' group.  Another note-worthy observation is the amount of foreign investment currently taking place in the American market.  We have seen a sharp increase in the number of houses sold to a vast array of nationalities desiring to own a piece of the greatest country on earth.
Overall my point is this…if you have ever desired to invest in real estate, now is the time.  If you have any questions about the process or need guidance for any stage, feel free to contact me.  Book an appointment to speak to me.  I look forward to helping you turn houses into homes, contribute to building better communities and to take pride in our country one property at a time!
Looking for hard-to-find investments?  Sign up to receive our INVESTOR ALERTS as soon as they hit the market (and even some opportunities prior to hitting the open market!).  All our alerts contain opportunities that are vetted by our team of experienced investors.
————————
Michael Carr is the Co-Founder & COO of BrandFace, LLC. He is also a real estate branding expert and international bestselling author. As America's Top Selling Real Estate Auctioneer, he has sold billions of dollars in commercial and residential properties.