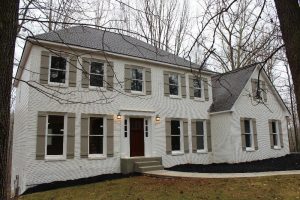 148 West Shores Drive, Jefferson, Georgia 30549
We hope you love this stunning true Colonial appointed house as much as we enjoyed creating it!  This has definitely been one of my favorite re-dos of my career.  We took a shell of a Betz style house with barely 3 bedrooms and two and a half baths (with a dank, dark basement) and turned it into a neighborhood masterpiece that any family could boast proud ownership.  We stripped it down past the insulation to assess any water leaks, old pipes or hidden damage, then painstakingly put her back together with many additions and accoutrements.  See the photo gallery of our work below.
We added the huge covered deck overlooking your portion of the initial tributary pond that feeds the larger two lakes.  Notice the setback lines.  It's very hard to get this close to natural water without having to deal with very steep transitional elevations.  With this jewel, you and your family can walk right out of the full daylight basement and down a gentle slope to your private water.  Additionally, we addressed an uncovered portion, great for grilling and natural sunlight on those perfect 70 degree Georgia days.  Then we thinned the forest between the house and the pond to accommodate more natural sunlight.  We truly tried to think of all the appointments we desire in our own homesteads.
Starting from the front, notice the clean, flat multi windowed front fascia, with 11/12 pitched roof, which displays the stateliness of this over-sized house to a T.  We removed the shabby shutters, painted the standard brick and added many new windows, shutters and a perfect Shaker style door with short, clean concrete steps to give it the honest George Washington Mount Vernon look of perfection.  It is purposeful functionality that does not steal from the elegance of the manor.  Step through the front door and your eyes and senses run to the feeling of cottage and family.  Your eyes are drawn immediately to competing accouterments of the hand scraped bamboo flooring (the most durable flooring on the market) and the shaker style clean square newels of the staircase in perfect keeping with the colonial theme.
Step through the front door and your eyes and senses run to the feeling of cottage and family.  Your eyes are drawn immediately to competing accoutrements of the hand scraped bamboo flooring (the most durable flooring on the market) and the shaker style clean square newels of the staircase in perfect keeping with the colonial theme. To the left you have a sitting room transitioning to the formal dining area.  Move to the right and you see a matching staircase leading you to the basement, poised to be finished however the new owner would appreciate, including flooring paint and kitchen build-out.  Want a man cave?  An in-law suite?  No problem!  Family play room, church group hang-out or a way to keep the teenager at home without cramping their style?  No problem!  We can connect you with our designer or you can bring your own to construct this portion of the estate any way you would like to see it finished.  Pricing is not included in the advertised price; however, our goal at Michael Carr & Associates, Inc. is to transform our projects with the same care as we would for ourselves!  Dare to think it and we will work with you!
Across the hall is the in-law suite or small master on the main floor, complete with private entrance to the full bath.  This addition doubles as a guest bath, perfect for use during large group gatherings.
Continue on and feast upon your completely re-apportioned, modernized kitchen, sporting brand new top of the line Bosch appliances.  We tucked the oven range combo in the far corner, and with more buttons than a winter overcoat, this piece of solid equipment all but mixes your recipes before it cooks and serves the dishes for you! Notice the double veneered solid granite countertops—one of my favorite plusses to this magnificent kitchen.  Turn to the right and you are passing a Bosch stainless steel refrigerator beside a double door, full size cabinet pantry, and followed by a double door main floor laundry with extra pantry storage.
All this is adjacent to the perfect family room overlooking your deck and your private waterfront view!  This room boasts my absolute favorite centerpiece – the mantle and hearth, hand-crafted from a 300-year old Jackson County red oak!  We purposefully left this stunning conversation piece rustic, continuing the cottage craftsman theme.
Upstairs, functionality is the name of the game.  We installed heavy 8 pound padding beneath top shelf inlaid pattern carpet from our showroom.  This is the best carpet we offer and it matches the craftsman clean top 8-inch baseboards perfectly.  We totally renovated the guest bathroom retreat by tearing out the shower/tub combo and hand crafting the subway tiled shower that can easily be glassed in to create a steam shower combo if desired.  Notice the vanities in each bathroom are literal pieces of granite-laden furniture, under-mount sinks of course!  I personally love the rectangular patterned under-mount and clean line mission-style doors and pulls.  We added closet space and central heat and air to the once nonfunctional T-shaped bonus room and turned the end of the hallway into a large bedroom on the opposite end of the home from Mom and Dad's retreat.  Perfect for any use, this room (like the master suite) boasts incredible views from nearly every angle.
Finally, the master!  Walk through this doorway into one of the best master suite baths we have ever created.  Double granite topped vanities, clean lined drawers, pedestal feet with craftsman style storage baskets.  Elongated Alice in Wonderland free standing tub with silver J pole faucet and handheld sprayer invites you to draw a bath and soak while you survey your kingdom from the full bay windowed alcove.  This is perfection! Don't let your imagination cause you to miss the marbled walk-in shower retreat, though!  This is my favorite shower, with oversized rain head, adjustable hand held sprayer and fixed temp handle.  All I would add is the glass to make it a steam shower.  Your options are not limited!
End your tour where it started—the oval drive with the friends and family entrance to the covered porch and back door.  Nicely appointed with plenty of lighting and extra wiring for your outdoor kitchen or wide screen TV, which can be mounted above the all-window patio doors.  This area is perfect for Saturday afternoon games or outdoor movie nights.  Post caps complete the mission style black banisters and stained tongue and groove ceiling appointments.  Driving down West Shores Drive, this area is the first thing the eye catches during winter months.  This house is as impressive from the back as it is from the side and front, making it a perfect setting in a perfect neighborhood.
We hope you enjoy our vision and sense the perfection we strive to bring to our unique projects.  Our goal is to pass along our passion for creating it—to your passion for making it a home full of laughter and memories.  Please do not hesitate to reach out to us with any questions or concerns.  We look forward to hearing from you or your agent.  For more information, contact Harrison Funk at 678.444.4110 (ext. 9) or [email protected].
Blessings,
Michael Carr
President, Michael Carr & Associates, Inc.
Anything Real Estate®
Setting the Standard with the confidence of over 68,000 real estate transactions.
————————
Michael Carr is the Co-Founder & COO of BrandFace, LLC. He is also a real estate branding expert and international bestselling author. As America's Top Selling Real Estate Auctioneer, he has sold billions of dollars in commercial and residential properties.