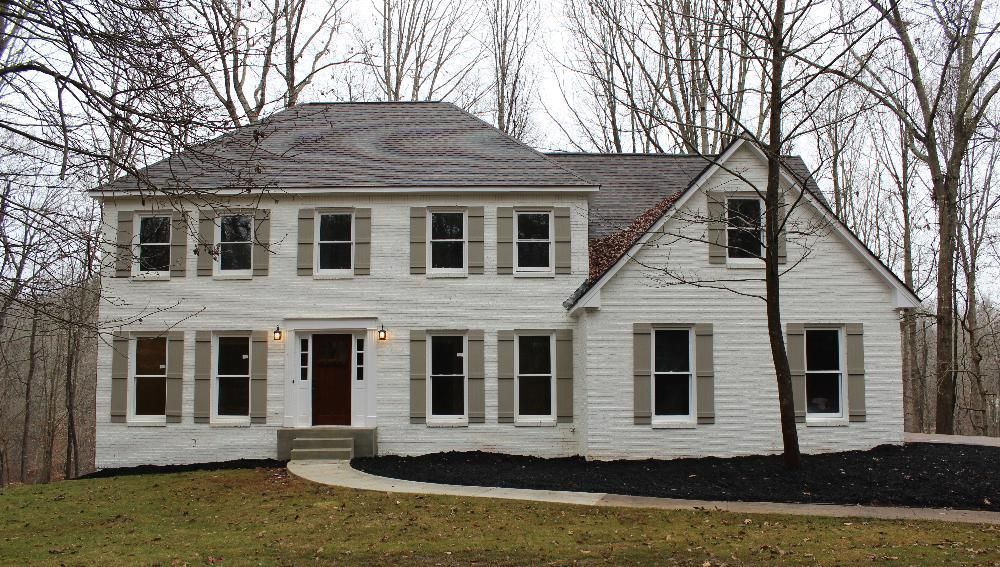 THE JOURNEY:
Welcome to my favorite renovation of my career. We hope you love this stunning true Colonial appointed house as much as we enjoyed creating it! We took a shell of a Betz style house with barely 3 bedrooms and two and a half baths (with a dank, dark basement) and turned it into a Colonial-Craftsman neighborhood masterpiece.
THE DECK:
We added the huge covered deck overlooking a portion of the initial tributary pond that feeds the larger two lakes. We even thinned the forest between the house and the pond to accommodate more natural sunlight. Additionally, we addressed an uncovered portion and gave you plenty of lighting and extra wiring for your outdoor kitchen or wide screen TV, now great for entertaining on those perfect 70 degree Georgia days.
THE EXTERIOR:
Notice the clean, flat multi windowed front fascia, which displays the stateliness of this over-sized house to a T. We painted the standard brick and added more windows, shutters and a perfect Shaker style door with short, clean concrete steps to give it the honest George Washington Mount Vernon look of perfection.
THE FEEL:
Stepping through the front door, your senses run to the feeling of cottage and family. Your eyes are drawn immediately to competing accoutrements of the hand scraped bamboo flooring (the most durable flooring on the market) and the shaker style clean square newels of the staircase in perfect keeping with the Colonial theme.
THE FAMILY ROOM:
The family room boasts my absolute favorite centerpiece – the mantle and hearth, hand-crafted from a 300-year old Jackson County red oak! We purposefully left this stunning conversation piece rustic, continuing the cottage craftsman theme.
THE KITCHEN:
Continue on and feast upon your completely re-apportioned, modernized kitchen, sporting brand new top of the line Bosch appliances. We tucked the oven range combo in the far corner, and with more buttons than a winter overcoat, this piece of solid equipment all but mixes your recipes before it cooks and serves the dishes for you! Notice the double veneered solid granite countertops—one of my favorite plusses to this magnificent kitchen.
THE MASTER:
The master includes one of the best master suite baths we have ever created. Double granite topped vanities, clean lined drawers, pedestal feet with craftsman style storage baskets. Elongated Alice in Wonderland free standing tub with silver J pole faucet and handheld sprayer invites you to draw a bath and soak while you survey your kingdom from the full bay windowed alcove. A bonus marbled walk-in shower retreat is equipped with an oversized rain head, adjustable hand held sprayer and fixed temp handle.
THE DRIVE:
End your tour where it started—the oval drive with the friends and family entrance to the covered porch and back door. This house is as impressive from the back as it is from the side and front, making it a perfect setting in a perfect neighborhood.
Facelift for Exterior of Home
Colonial Theme Staircases
Hand-Crafted Rustic Mantle
Marble Walk-In Shower Retreat
Hand-Scraped Bamboo Floors
Incredible View Through Multiple Windows