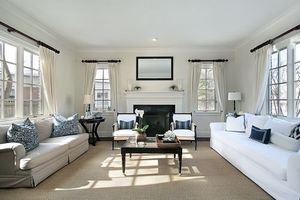 Alright friends, we are gearing up for the holidays!  Have any of you thought about hiring a designer or contractor for work around the home?  Please allow me the opportunity to let you in on some potential industry pitfalls to help make your experience enjoyable and avoid some ever increasing heartaches we have witnessed in the field lately!
So you want to do some work on your home?  Who do you hire?  We all know someone like the 'The Lone Handyman', the home-based Interior Designer, maybe even a company with a showroom and the look and feel of legitimacy that also doubles as an unlicensed contractor.  Construction and design professionals are everywhere—licensed and unlicensed.  Grandma would say "A dime a dozen"!  Many of these professionals are courteous, friendly, even lovable.  They do great work, they design great kitchens and bathrooms.  On the outside and at first appearance, these individuals are truly great.  But have you thought about the scenario, for instance, where a designer is behaving as a licensed contractor without a license or training?  They may be hiring and controlling subcontractors who will work inside your home, but without the proper license and training, YOU (the innocent homeowner) could be liable for any of their mistakes or accidents.  So before you decide on who will enter your home and potentially create a nightmare situation, let us investigate some industry standards which will help you choose the right designer, tile or flooring expert, carpenter, plumber or licensed contractor.
ALWAYS ASK FOR A LICENSE.  Did you know that the state of Georgia adopted a law requiring any person or entity performing construction work for others to be licensed as a residential contractor?  Unfortunately there are many designers and construction professionals that do not adhere to the law.  Some of them even advertise 'licensed and insured" but what kind of license?  What kind of insurance?  A driving permit is a license!  It would be easy for us to disregard this oversight, especially if it equates to cheaper estimates or invoices, but cheaper is NEVER better!  In fact, the bitterness of poor quality will always outlast the sweetness of low price.
ALWAYS CHECK FOR INSURANCE:  The state of Georgia requires contractors to carry Workers Comprehensive insurance and general liability.  If your unlicensed designer is acting in the capacity of a licensed contractor and does not require the subcontractors actually performing the work to have the proper insurance, your homeowners insurance could be liable should that sub or their employees get hurt on your property.
ASK ABOUT SPECIFIC TRAINING CERTIFICATIONS:  While many designers or contractors have decades of experience in their specific craft, there is a huge difference in 'selling' flooring for years and actually demolishing and rebuilding a kitchen or bathroom where the flooring would be installed.  The flooring or the counter surface may be one minor component to a large renovation job.  If a contractor has taken the time to study, apprentice, apply and pass a written examination for Georgia and Federal codes, then it is your first clue that he/she cares first for the industry and second for the financial reward the industry will bring.
USE A LICENSED CONTRACTOR:  Although having a state issued license does not automatically make a person an expert, it is your first clue that the contractor desires to follow the rules.  The greater plus is that YOU (the client and homeowner) has a government entity to hold that licensed contractor accountable.  Otherwise, you have another resource in the outside chance that he/she will not follow through with their promises.  It is an extra layer of protection.  I can tell you horror story after horror story where unlicensed contractors messed up a job and were never heard from again!  Pay a licensed contractor to handle the subs.  We know what to look for in our subcontractors.  We know how to hold them accountable for their insurance certificates and individual licenses.
PAYMENTS AND LIENS: This is a biggie!  Did you know that if you use an unlicensed designer or contractor and they do not pay the subcontractors that work on your home, YOU can ultimately be held responsible for paying (even if you have already paid the designer or contractor)!!  It is a common occurrence.  You pay the contractor and he/she does not pay the sub that actually put in your countertops or installed your tile in your new bathroom.  The subcontractor can place a mechanics lien on your property for lack of payment!  Do yourself a big favor and choose a contractor that has the license and the insurance!
KEEP PROJECTS ON TIME:  Time is of the essence for every homeowner.  Try to use companies that EMPLOY skilled workers instead of hiring subcontractors.  Designers and licensed contractors that primarily use subs statistically take three times longer to complete jobs and your goal as a homeowner is to get your work done quickly so you can enjoy your newly updated space.  Improvement companies that employ the majority of their skilled labor are not subject to many of the scheduling problems of their subs and the job will definitely go smoother.
DON'T TRUST—VERIFY:  There's a lot to process, right?!  Don't be daunted by the information.  It is actually very easy to verify license and insurance information.  After you interview at least three licensed contractors, follow these simple steps to help make your experience the exciting time that it should be.  It's your home—protect it!
Require your designer or contractor to provide proof of a contractor's license and Workers Comp and general liability insurance.
Type in their profession (Residential General Contractor), license number, first name and last name.  The state will verify their good standing for you.
The Workers Comprehensive AND General Liability certificate will have the insurance providers name, address and phone number. Simply call and ask an agent to verify that the insurance is valid AND current!  Unfortunately many contractors will get a "ghost" policy that either has been canceled after they received the certificate or excludes them as covered!  Yes, a contractor can get a policy that actually does not cover them in the event of an accident!
REALIZE YOUR DREAM:  I have been in residential contracting for nearly 20 years and love to see projects dreamed upon and then executed to perfection.  If I do not complete a job to your complete satisfaction—not just in the finished product, but in the overall experience during the project—then we do not consider it a success.  Although renovations and construction are in and of themselves stressful, they can be fun and exciting if you have the peace of mind that your designer and contractor are playing by the rules, taking the burden of risk from you (the client) and following through with the promises they have made.  Choose carefully, enjoy the experience and as always if we can help with Anything Real Estate™ please do not hesitate to contact us!
————————
Michael Carr is the Co-Founder & COO of BrandFace, LLC. He is also a real estate branding expert and international bestselling author. As America's Top Selling Real Estate Auctioneer, he has sold billions of dollars in commercial and residential properties.