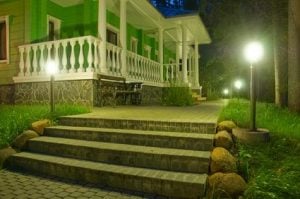 Preparing your home to sell often starts at the curb. It's often the first impression people get of your home and they make judgment calls about whether to look further based on its exterior condition. Here's a 20-item checklist below to ensure that your home is putting its best face forward. Fortunately, most of these items cost little to nothing and can greatly improve your chances of selling sooner.
Keep grass neatly cut and edged
Remove weeds and add fresh mulch to flower beds
Straighten and afix loose shutters
Paint or replace your mailbox
Prune overgrown shrubs and trees
Replace bulbs in porch and garage lights
Replace any missing bulbs in landscape lighting
Clean & straighten (or replace) gutters and downspouts
Clean your windows or replace them if they're out of date
Put a fresh coat of paint or stain on the front door
Polish the doorknocker and kick plate on your front door
Stage your front porch with welcoming furniture & accessories
Decorate with potted plants or hanging baskets
Put away any bicycles, sport equipment and toys (a deck box or storage building is perfect)
Pressure wash your siding, porch, sidewalks and driveway
Re-seal your driveway if necessary
Replace any warped or rotting wood
Replace your welcome mat if it's worn
Clean the glass in your storm door
Ensure that your doorbell is in working condition
————————
Michael Carr is the Co-Founder & COO of BrandFace, LLC. He is also a real estate branding expert and international bestselling author. As America's Top Selling Real Estate Auctioneer, he has sold billions of dollars in commercial and residential properties.